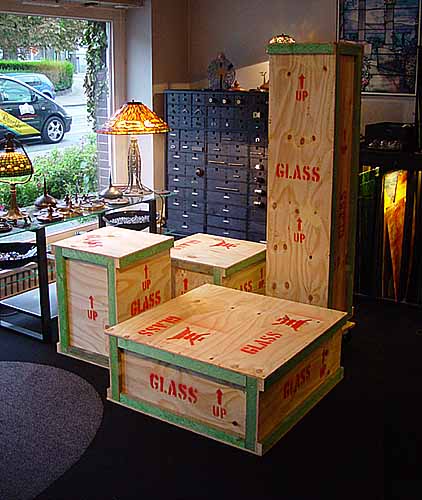 Content of boxes shown in this picture:
A 18" Wisteria shade, a large Tree trunk base, a 29" cone lamp shade,and a Junior floor base.
-- CUSTOMER SERVICE --
Dear customer, we are familiar with
international shipments.
We ship worldwide to USA and other
countries for years.
All lamp shades / lamp bases and
hanging fixtures are packed
professionally in wooden boxes.
Our boxes can be opened easy
by using a screwdriver or screwing
machine.
We do have moderate rates at
Federal Express (FedEx) and
this is what you will be charged
for your shipment.
We do not profit on shipment cost.
Please find some pictures here which
show how we pack a